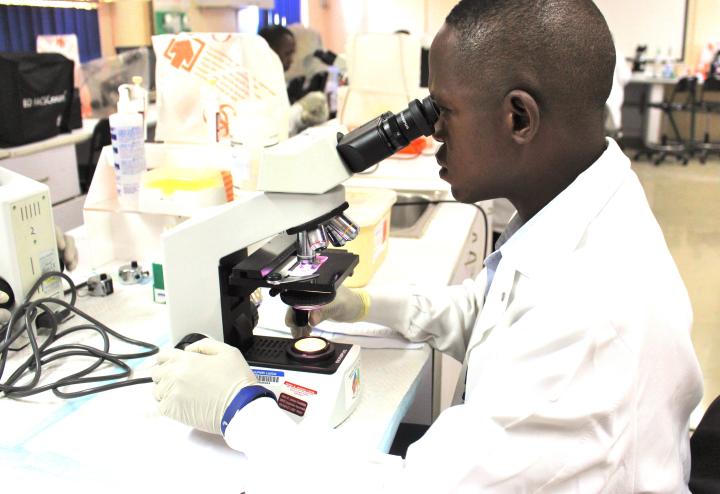 HJFMRI in Nigeria
The Walter Reed Program-Nigeria (WRP-N) is a partnership between HJFMRI Ltd/Gte and the Walter Reed Army Institute of Research that collaborates with governmental, medical, and scientific institutions to strengthen defenses against infectious diseases within Nigeria and the greater West African region. Based out of the U.S. Embassy, WRP-N works closely with the Nigerian Ministries of Defence and Health to implement HIV prevention, care, and treatment through the President's Emergency Plan for AIDS Relief (PEPFAR). WRP-N also supports malaria diagnostic capacity through the U.S. President's Malaria Initiative (PMI). Presently, WRP-N aligns with the Joint West African Research Group to guard against regional epidemics and supports research capabilities through participation in clinical trials, data analysis, and biosurveillance activities.  
News & Updates
Turning the Tide: An Inspiring Journey from Depression to Hope and Empowerment after HIV Diagnosis

When Edith Okafor, a 50-year-old widow and caregiver of four boys, walked into the Clinical Training and Research Centre (CTRC), 44 Nigerian Army Reference Hospital Kaduna (NARHK) to begin antiretroviral therapy in April 2007, she had no idea that that encounter would become the beacon of hope in her state of despair.  

HJFMRI Opens New Health Innovations Center in Nigeria

September 28, 2023, marked a significant milestone, as HJF Medical Research International Ltd/Gte. (HJFMRI Ltd/Gte.) celebrated the grand opening of its new office in Abuja, Nigeria. The new facility named, the Health Innovations Centre (HIC) is situated in the heart of the Federal Capital Territory (FCT).

Walter Reed Program-Nigeria and CDC Join Forces to Empower Adolescents Against Gender-based Violence

WRP-N hosted 'No Means No' training for youths, where they were equipped with essential skills and knowledge to prevent and respond to sexual and gender-based violence.

HJFMRI Supports Mpox Training in Nigeria

HJFMRI supported partners The Walter Reed Army Institute of Research (WRAIR) Emerging Infectious Diseases Branch, USAMRD-A, and other local collaborators in Nigeria to complete mpox Public Outreach and Sample Collection Training in March/April 2022, funded by a grant from the U.S. Defense Threat Reduction Agency (DTRA).

CASE STUDY: Work with Key Populations Informs New National Guidelines

Successful PEPFAR-funded outreach efforts to engage key populations helped inform new national HIV and STI service delivery guidelines in Nigeria.